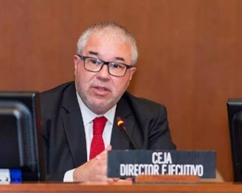 Jaime Arellano has been the Executive Director of the Justice Studies Center of the Americas (JSCA) since January 2014.
Mr. Arellano is an attorney (1991) who holds an undergraduate degree in Legal Sciences from the Pontificia Universidad Católica de Chile Law School (1989) as well as a Master's degree in Public Administration and Public Policy (MPA) from American University School of Public Affairs (1996) and a Master's in Law (LL.M.) in Litigation and Non-adversarial Methods from the Universidad Interamericana de Puerto Rico Law School (2019). He has held Fulbright and Chilean Presidential scholarships.
Jaime Arellano was appointed Vice Minister (Undersecretary) of Justice of Chile by President Ricardo Lagos, and held the position for the entirety of that administration (2000-2006). During that time, Chile's justice system experienced cutting-edge reforms in which Arellano played a leadership role. These reforms include the legislation and implementation of the oral adversarial criminal justice system, the organization and infrastructure of the prison system, oral family justice, oral labor justice, the approval of the new Civil Marriage Law (divorce), the introduction of the Civil Justice Reform Forum and a series of initiatives designed to strengthen the Judiciary.
He has been a senior partner at the Law Firm of Jara & Marín in Santiago de Chile since May 2010 and worked as an international consultant with the Inter-American Development Bank (IDB), supporting criminal and family justice reforms in Mexico and Ecuador. He served as the Legal Manager of CORFO, the Chilean Economic Development Agency, from 2006 to 2010.
Mr. Arellano has been a faculty member at Universidad de Santiago and the Chilean Judicial Academy and has offered courses in the Universidad de Chile and Universidad Católica de Chile Law Schools and at American University Washington College of Law.
He currently teaches in the Oral Criminal Litigation Certificate Program, which is offered jointly by American University Washington College of Law (AU-WCL), Universidad Alberto Hurtado and JSCA in Washington, D.C. He also offers courses on public policies of justice reform and criminal and civil litigation skills and strategies in various JSCA programs. These include the Inter-American Training Program for Civil Justice Reform, the Training Program for Criminal Judges and the Training Programs on Criminal Litigation Skills and Reform in Central America, Brazil, Argentina and Uruguay.
---
Rodo 1950, Providencia
Santiago – Chile
Telephone (562) 22274 2933
e-mail: jaime.arellano@cejamericas.org