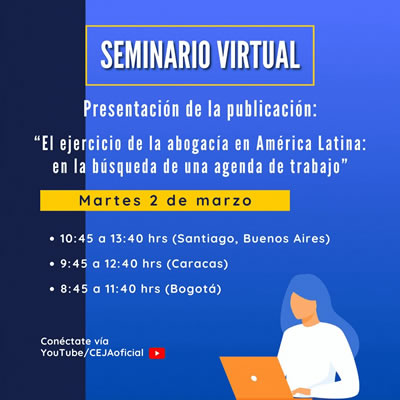 The activity will be broadcast via JSCA's YouTube Channel.
The virtual seminar "The practice of law in Latin America: In search of an agenda" will be held next Tuesday, March 2, 2021. The presentation will focus on the results of the research that the Justice Studies Center of the Americas (JSCA) conducted in five countries in the region during 2020.
The event is directed at attorneys, judges, prosecutors, academics, and anyone else who is interested in learning about the reality of the practice of law in Latin America and the Caribbean. The research addresses elements related to the teaching of law and oversight of professional practice as well as the key role that attorneys play in promoting and strengthening access to justice.
The event will begin at 10:45 a.m. local time (for Chile, Argentina and Uruguay), 9:45 a.m. for Venezuela and 8:45 a.m. for Colombia. The activity will be broadcast via JSCA's YouTube Channel.
The seminar will feature the participation of Argentine attorney Alberto Binder, a renowned academic who will begin the event with a master class entitled "The practice of law in Latin America: Ideas and concepts for empirical research."
The JSCA staff members who conducted the research will then present the main results of the study. The event will end with a roundtable discussion that will include distinguished panelists who will reflect on key points such as the role of oversight mechanisms, the gender perspective, and the commodification of legal training.
The roundtable participants will be Dr. Rogelio Pérez Perdomo, Dr. Maria Inés Bergolglio, and the Honorable Maria Adelaida Ceballos Bedoya along with the Secretary General of the Inter-American Attorneys' Federation, Dr. Lourdes Escaffi-Venes.
In regard to the need to conduct research on the practice of law, JSCA Research and Projects Director Marco Fandiño has stated that the role of attorneys should not only be to contribute to maintaining social peace by promoting the use of adequate dispute resolution methods and that they should also engage in the ethical and responsible exercise of judicial actions within the judicial system.
"The widespread idea that attorneys' interests stand in contrast to those of society is incredibly harmful and problematic. The practice of law is based on the need to limit excesses of power and protect marginalized social groups by effectively applying the law," Fandiño added.
The qualitative research project on the practice of law in Latin America was conducted in Chile, Mexico, Bolivia, Costa Rica, and Guatemala.